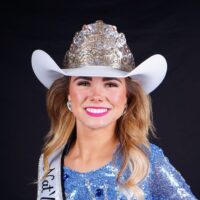 Addison Redd
NHSRA Queen
From: Ogden, UT
Hobbies: I love to hunt with my Dad and brothers, Go to our families cabin and go off-roading, I love traveling to Hawaii with my family and I love to surf there! I also bake and I love to camp!
Fun Fact: I am fluent in Mandarin Chinese and have taken Chinese for 9 years! I have also taken my AP test fluently in Chinese.
Favorite HS Rodeo Memory: My favorite memory was during a high school rodeo in St. George me and my friends all went to dinner after and tried to find some hot springs… turns out there were no hot springs and the directions took us to a junk yard, it was dark and we were very unsure of the place so we tried to turn around and we ran over a big stick and the stick had punctured the back bumper of the car!
Favorite Quote: "YOU CAN'T GO BACK AND CHANGE THE BEGINNING BUT YOU CAN START WHERE YOU ARE AND CHANGE THE ENDING."