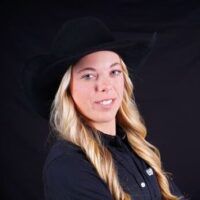 Emily Brown
HS Vice President
From: Belton, South Carolina
Hobbies: When I'm not rodeoing, I'm playing tennis, singing, and hanging out with my friends… usually at Top Golf.
Fun Fact: I have worked at a Veterinary Clinic for 3 years.  The owner of this practice, Dr. Justin Martin, DVM, is a former NHSRA Vice President!  He inspired me to run for this office as well.
Favorite Memory: At my State Finals in 2021, I came into the Finals 8th in the poles.  Before the short- go, I knew I had to really go after it if I wanted to qualify for the NHSFR.  I finished second in the short go, pulling me to the #3 spot in the state.  My favorite memory is when my dad ran to the warm up pen after my run and we celebrated together.  I will never forget how exited we were.
Favorite Quote: My favorite quote is from the movie Ratatouille, "Only the fearless can be great."
Follow my journey on, Instagram