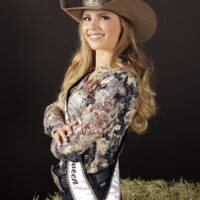 Kylee Whiting
NHSRA Queen
From: Star, Idaho
Hobbies: If you know me, you know my favorite thing to do is ride horses. I show reined cow horse competitively through the NRCHA. I also barrel race and pole bend. When I am not on horseback, you can find me surfing behind a boat in the summer or skiing down a mountain in winter. I also love going to the gym. Travelling is one of my favorite hobbies, and thanks to my parents, I have had many opportunities to explore our world. These experiences have allowed me to share the sport of rodeo and our western heritage worldwide.
Fun Fact: I am a nerd. I know, you probably couldn't have guessed, but I love learning. I have had the privilege to take many concurrent credit classes in High School, so when I graduate next year, I will already have my Associate's degree. I plan to continue my education to someday become a pediatric dentist.
Favorite NHSRA memory: I have many amazing NHSRA memories. Something I will never forget was at the NHSFR in Lincoln, Nebraska, when they called my name as the 2021 National HS Rodeo Queen. I was overwhelmed with emotions. There is no better feeling than knowing all your hard work paid off. That moment was a blessing I will forever cherish.
Favorite Quote: My barrel trainer, Greg Holmes,  gave me a simple piece of advice that I think about every single day, "Enjoy the journey". This quote has encouraged me to stay positive and view life with a glass half full.
Follow Kylee on Instagram