Harlee Stokes
From: West Haven, Utah
Personal Note: As a third generation cowgirl, I have a love and appreciation for the western lifestyle. I hope to one day raise a family in such rich history and heritage that I feel so blessed to live.
Fun Fact: I am an avid rifle hunter, aiming across canyons, I'm a dead eye at 1000 yards!
Favorite HS Rodeo Memory: My favorite high school memory has to be hands down the 75th annual NHSFR in Gillette, Wyoming! It was my favorite because it was my first time at Nationals, I got to be there with some of my best friends and I was able to bring home a National title!
Favorite Quote: "Dreams and dedication are a powerful combination."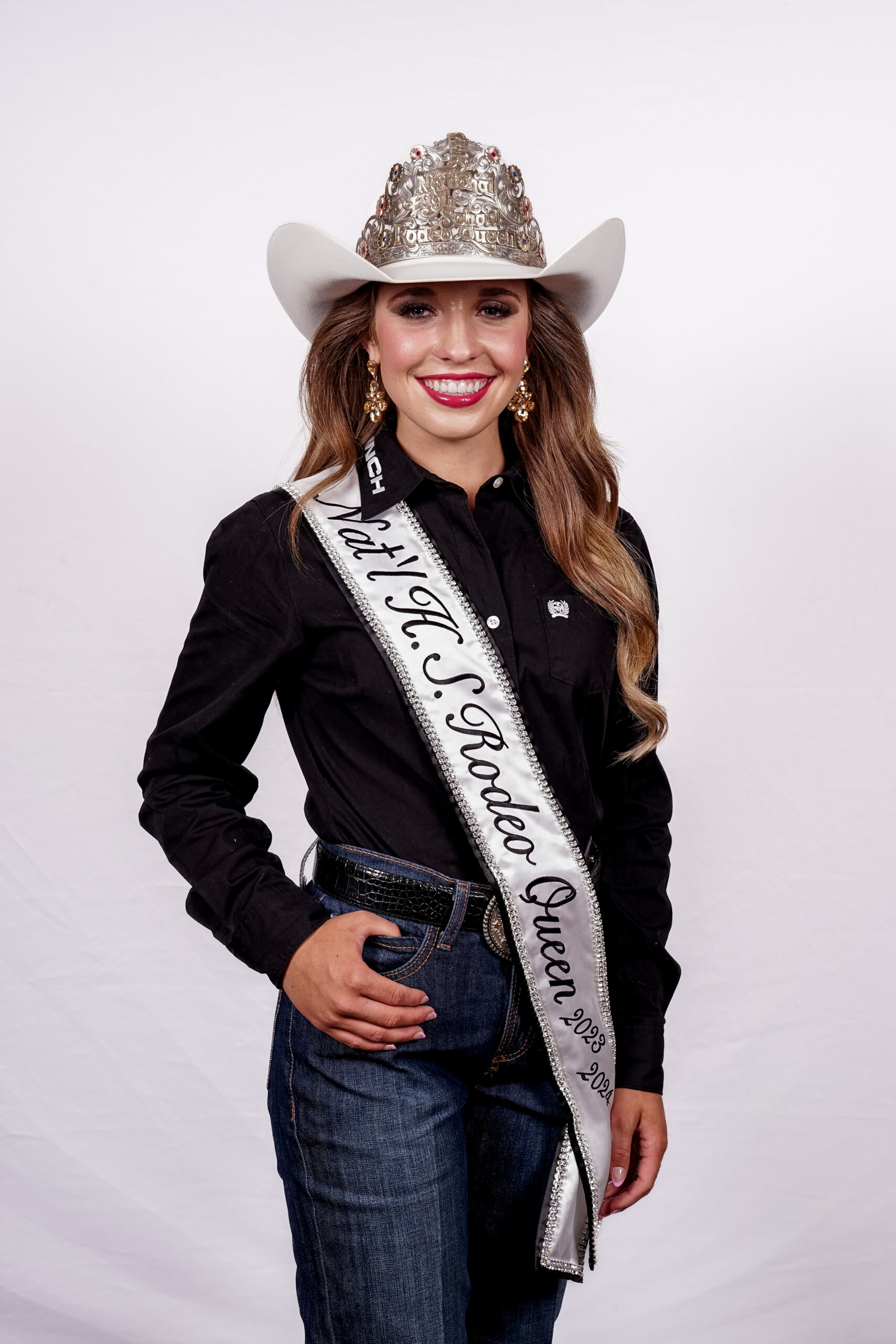 2022- Addison Redd, Utah
2021 - Kylee Whiting, Idaho
2020 - Shaylee Warner, Idaho
2019 - McKardy Kelly, Utah
2018 - Shelbi Rice, Arkansas
2017 - Emma Cameron, New Mexico
2016 -- Opal Harkins, Montana
2015 – Chloe' Costello, Texas
2014 – Taylor Spears, Oklahoma
2013 – Hunter Rae Rackham, Idaho
2012 – Maicie Bullock, Idaho
2011 – Dakota Passey, Alberta
2010 – Callie Martin, South Carolina
2009 – Chelsea Lind, Texas
2008 – Taci Shaffer, Utah
2007 – Chenae' Shiner, Utah
2006 – Michelle Johnson, Utah
2005 – Amy Jo Spinuzzi, Colorado
2004 – Emily Aldredge, Kansas
2003 – Lynette Nelson, Utah
2002 – Rachel Oates, Texas
2001 – Joanna Blackwell, Texas
2000 – Somer Lynn Scott, Texas
1999 – Angela Oman, Utah
1998 – Sara Dusendang, Michigan
1997 – Misty McCormick, Utah
1996 – Jaime Tilton, California
1995 – Loni Johnston, Nevada
1994 – Molly Freeman, California
1993 – Jaime Shepard, Montana
1992 – Tanya McKinnon, Utah
1991 – Stephanie Marquiss, Wyoming
1990 – Angela Hennigan, Louisiana
1989 – Kathy Feldman, Kansas
1988 – Jody Howard, Nevada
1987 – Kacey Peterson, Utah
1986 – Christy Fullen, Idaho
1985 – Trish Kostelanksy, Alberta
1984 – Tina Tolbert, Utah
1983 – Kellie Dilka, Colorado
1982 – Tauna Hunt, Washington
1981 – Leslie Patten, South Dakota
1980 – Susan Cummings, Utah
1979 – Neenie Blake, Idaho
1978 – Kathy Freley, Colorado
1977 – Janice Nelson, Idaho
1976 – Leslie Ferreira, California
1975 – Robbie Lou Steenbergen, Oklahoma
1974 – Julie Rugg, Oregon
1973 – Sabrina Schmidt, Texas
1972 – Gina Campbell, Kansas
1971 – Cindy Hagen, Minnesota
1970 – Nelda Robinson, Louisiana
1969 – Madeline Gere, New Mexico
1968 – Pam Martin, Arkansas
1967 – Teresa Dee Daly, Minnesota
1966 – Roberta Oatman, Nebraska
1965 – Linda Glase, Texas
1964 – Jody Freeman, Texas
1963 – Abbie Caplan, New Mexico
1962 – Pamela Taylor, Texas
1961 – Martha Jackson, Arkansas
1960 – Rhonda Sedgewick, Wyoming
1959 – Betty Johnson, Missouri
1958 – Barbara Priestly, New Mexico
1957 – Key Green, New Mexico
1956 – Gay Nell McCulloch, Wyoming
1955 – Dallas Hunt, Nebraska
1954 – Sandy Thomas, Texas
1953 – Janora Johnson, New Mexico
1952 – Kari LiKuhr, Montana
1950 – Joyce Culp, New Mexico