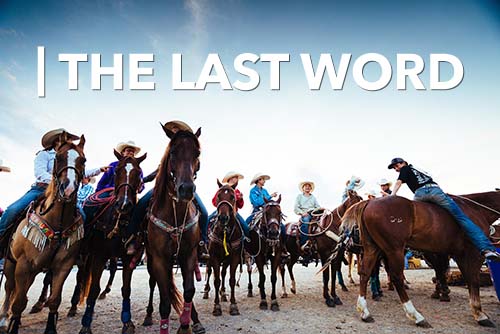 As I write this, I am making my way to Idaho Falls, Idaho for the the annual NHSRA Mid-Winter Board Meeting. While this is my first visit to the meeting, I'm quite thankful for some time to visit with great National Directors, staff, sponsors and families that will be present. In my 15 years of serving the NHSRA, I am continually blown away by the dedication and sacrifice of those who keep our "little" NHSRA family moving. They are an example to me and some hard folks to keep up with, and for that I am thankful.
I frequently use the term family when referring to the NHSRA or rodeo in general. I love how quickly lifelong bonds form among our contestants. As well, I'm encouraged when I see that "rodeo dad" or "rodeo mom" who takes the time to help someone else's kid reach their potential. And let's not quickly forget how many of our crew will do everything they can to help you on the side of the road when you've got an emergency. That's why I love the word "family." With our rodeo family at our side, we have all the tools, experience and encouragement we could ever need to succeed in the arena and in life. There is likely not one struggle or issue you've had that a member of your rodeo family hasn't dealt with at some point and they want to help.
There is one little hitch in the family working well though: You must ask (or at least be honest with them when they ask)! I know dozens of families in our home state who would gladly help once they find out you have a need. I don't know of one National Director or NHSRA staff member who wouldn't do the same. Your family wants to help, so let them.
Along those lines, the Bible says in Hebrews 4:16, "Let us therefore come boldly to the throne of grace, that we may obtain mercy and find grace to help in time of need." In the preceding verses Jesus is described as our High Priest who will sympathize with us. He gets it. Your struggle is no surprise or shock to Him. He just wants to offer you the grace and mercy to get through it.
Whether you're dealing with searching for an answer from the Lord or seeking help from your rodeo family it's important to remember that we must approach boldly. Be honest, be humble, be kind — but be BOLD. Tell Him about your struggle and watch Him show up.
We have had a crazy couple of years, and I pray that 2022 is different. But if it is not, that's okay. We've got every tool and help we need to keep moving forward. Let's get after it and crush this year by leaning on our rodeo family and approaching the Lord with boldness.
Cory Young
Belton, Missouri
NHSRA Chaplain