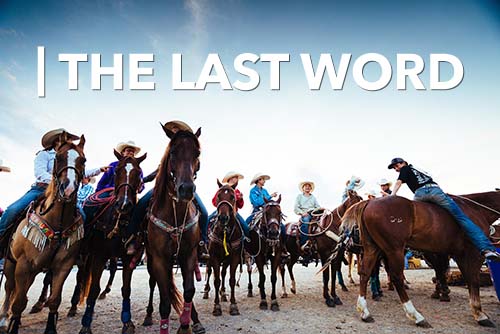 I hope that you are all doing well and are excited for a new rodeo season. Our office is working hard on planning the next Finals and events for the new season that is upon
us. We are really looking forward to a great 2021-2022 season.
We were so grateful for these past National Finals events. The Junior High Finals in Des Moines, Iowa, was very smooth, and the weeks rolled out with very few major events that might have otherwise caused us trouble. Although we are still coming out of some travel restrictions for our friends to the north, we had a little over 1,000 contestants along with friends and family in attendance. The weather was pretty good; not too humid, hot, or stormy, although it rained almost every other day.
The High School Finals in Lincoln, Nebraska, were another weather story entirely. You may not realize it, but our staff pulls into these events at least a week or more early. On the evening the staff arrived, we had a weather event that we won't soon forget. Lightning started at about 12:00 midnight and rumbled closer by the minute. Following the lightning, the wind came in with the rain. For at least an hour, this team was rocked side to side with the winds and the rain. By the time it had set in, there was no time to get out of our campers to seek shelter anywhere else.
When everything subsided, we came away pretty good except for the chairs and tables we had set up at camp, the ankle-deep water, unoccupied campers that had been picked up and destroyed and the loss of approximately 500+ stalls and tents. We had truly "weathered the storm", but we spent several days piecing together what had washed away.
Our priority was our need for stalls to replace the remnants of what was originally set up. We asked some of our contestants to get by with fewer stalls than they had originally reserved hoping that some of those contestants would be willing to give them up just to have enough for all competition horses. We were slowly able to secure additional stalls from several different suppliers and with those and some we had to manufacture on site, we got horses stalled inside the event center boundaries. Although we would have preferred the original pristine stalls, we were able to make it all work somehow. Thankfully, the rodeos went off without a hitch and we crowned champions, spent time with family and friends and made some lifelong memories.
We will be holding the 2022 NJHFR in Perry, Georgia — a first for us — next June 19-25. We are so excited about this opportunity. Our team has been planning for this event for several years. In the next several months, I am sure I will be traveling to the Fairgrounds to monitor progress and meet the hundreds of people who will help to make our rodeos the best they can be. I might add, all arenas are covered as are most all the stalls and everything happens in climate-controlled buildings. We will give you updates as we progress, but fully expect that this will be another successful event.
The 2022 NHSFR will be held in Gillette, Wyoming July 17- 23. Gillette is a familiar venue for us, and we fully expect these finals will be as successful as it ever was. We will be greeted by a few new faces but feel sure that we will be privy to a bunch of folks who are as excited for us to be there as we are. I will be making some trips to Gillette in the coming months to monitor progress. Plenty of campsites and stalls await us, as well as a large building on grounds that will house our western trade show. There is a lot to look forward to and we hope you all will be as happy for this event as we are.
Cinch Team process has already started and will be complete around the first part of October. We hope to have the Professional's Choice programs in place soon. And you do not want to miss a Western Legacy Series happening close to you. Western Legacy rodeos have proven to be highly desirable based on the number of contestants each one of them attracts. We still have added money for these events and hope you will find your way to one near you.
We are so proud of our members and the accomplishments each one of you have reached. Trust that we are working in your best interest. If we are not meeting your needs, hold us accountable and make sure to let us know. You are what makes this association great, and I truly appreciate your contributions in making it even better.
James Higginbotham NHSRA Executive Director
"There is nothing impossible to him who will try." – Alexander the Great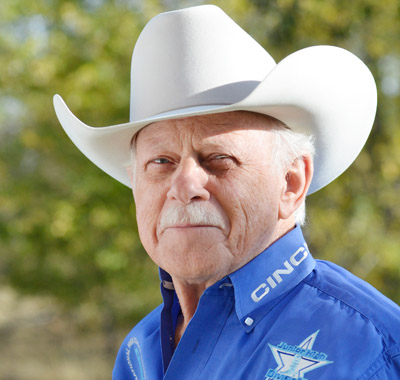 Photograph by Chip Garofalo