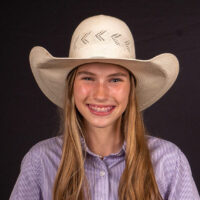 Hadley Alderson
Junior High Secretary
My name is Hadley Alderson.
I am in 8th grade.
I live in Lacrosse, Wisconsin.
A fun fact about myself is that, I'm the only person in my entire middle school and high school who has horses or competes in rodeo. It's a great way to introduce others to the sport.
I compete in barrel racing, breakaway roping, goat tying, pole bending, and ribbon roping.
My favorite Jr High Rodeo memory was our first trip to Perry, GA while surviving a heat wave and 24-hour drive in a caravan of rodeo friends. Those truck stops, time in the trailer, and making memories at my first National Finals was a great time.
"I can accept failure. Everyone fails at something, but I can't accept not trying." -Michael Jordan
My favorite book is "The Crossover" by Kwame Alexandar.
My favorite pet is Hurley, our family Black Lab and of course my horses!
I love playing basketball and going swimming with my friends.
Being a goat tyer, I often have practice goats at home. We had one very friendly goat named Brenda, who thought she was a dog. Not only did she follow us everywhere, but her bellar was more like a scream, and she would constantly use it. She would come running when you called her name, eat the plants around the yard, and try to launch her way through the window to get close to us. Goats can be fun, but boy can they also be a little annoying!