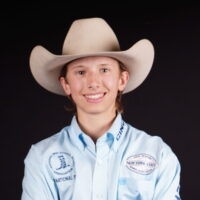 Spencer Mancini
Student Vice-President
My name is Spencer Mancini
I am going into 10th Grade
I am from Ballston Spa, NY
A fun fact about myself is that I can play multiple musical instruments by ear.
I compete in Bull Riding. Grade
My favorite Jr. High or High School memory is experiencing nationals for the first time in 7th
My favorite quote is: "Life is like riding a bicycle.  To keep your balance you must keep moving."  – Albert Einstein
My favorite book is the "The Old Man and the Sea", by Ernest Hemingway
I have a lot of pets so I can't choose one favorite.
My favorite hobby is playing the guitar.
Every since I joined High School rodeo I knew I wanted to be involved.  When I first experienced nationals in middle school, I set a goal to be a part of the board in high school. I believe that in life, you must take opportunities as they come. I decided to run my first year and am proud and honored to be a part of the National High School Rodeo Board as Student Vice President. I'd like to thank everyone for the support.