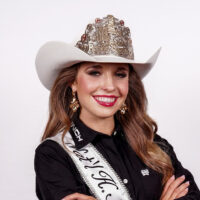 Harlee Stokes
National High School Rodeo Queen
I am an 11th grader at Fremont High School
I live in West Haven, Utah.
A fun fact about me is, as an avid rifle hunter, aiming across canyons, I'm a dead eye at 1000 yards.
I love competing in the NHSRA in 4 events. They include barrels, breakaway, goats and the queen contest.
My favorite high school memory has to be hands down the 75th annual NHSFR in Gillette, Wyoming. It was my favorite because it was my  first time at nationals, I got to be there with some of my best friends and I was able to bring home a National title.
Dreams and dedication are a powerful combination.
My favorite book I have to say is the Book of Mormon.
My favorite pet is my horse. His name is Jerry's Dirty Deal out of the famous Jerry Lee's Surprise. He is a 16yr old gelding and I have rode him the last 5 yrs and literally together he has made all my dreams come true! He is multi talented and I can't wait to see what else we can accomplish together.
My favorite hobby is rodeo and anything outdoors.
As a third generation cowgirl, I have a love and appreciation for the western lifestyle. I hope to one day raise a family in such rich history and heritage that I feel so blessed to live.