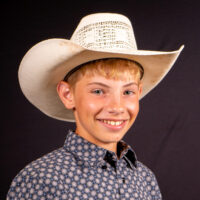 Sawyer Ward
Junior High President
My name is Sawyer Ward, and I am a 7th grader.
I live out in the country northeast of El Reno, Oklahoma.
A fun fact about me is that I have a youtube channel called Sawyerward/Adventures with Sawyer.
I currently compete in team roping at the Oklahoma Junior High Rodeos with hopes of talking my dad into letting me also compete in light rifle this year!
My favorite Junior High Rodeo memory was the shaving cream fight we had in Thomas, Oklahoma.
"A man's gotta do what a man's gotta do," is a favorite quote of mine by John Wayne.
My favorite book is Tom Sawyer because it's full of action, adventure, and mischief.
I would have to say my favorite pet is our Great Pyrenees dog, Daisy. She does like to eat our shoes, but she is so funny!
My favorite hobby is fishing…I sneak off every chance I get. I also like to bake some mean snickerdoodles.
I was outside one day, and something caught my eye in our pond. I realized it was a huge fish in the shallow with its fin sticking up out of the water. I convinced my mom to go with me to check it out in our kayak. We paddled right up beside it, and then it disappeared under the water only to come back up right under our boat nearly flipping us over. This fish was the size of a small person! My mom screamed (I may or may not have yelled). We paddled so fast trying to get out of there. The scary thing is that this fish is still in our pond somewhere!