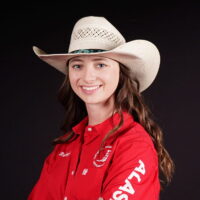 Mackenzie Betts
Student Secretary
My name is Mackenzie Betts.
I am going into my senior year of high school.
I was born in Reno, Nevada, however I moved up to Chugiak, Alaska when I was seven years old.
I have been apart of a Spanish Immersion program since I was in kindergarten, and have become fluent in Spanish and receiving my seal of biliteracy this past year.
I am an all around cowgirl and compete in barrels, poles, goats, breakaway, reigned cow, cutting, light rifle, and trap shooting.
My favorite HS Rodeo memory was making the short go at the 2022 NHSFR in the pole bending on a horse I had only ridden for a little over a week.
My favorite quote is "A winner is just a looser who tried one more time" George M. Moore, Jr.
My favorite book is Kalahari by Jessica Khoury.
My favorite pet is my first horse, Mocha. She is a 15 yr old appendix and is the reason that I have come so far in rodeo.
Most of my time is taken up between school, work, and my horses but when I do get free time I love to go hunting and fishing with my friends and family.
We bought my first horse, Mocha 2 days before the Covid pandemic took off in the United States. We bought Mocha in Oregon and were driving back to the Seattle airport after meeting her and doing all the prepurchase tasks when the Seattle airport started to go into lockdown. We were lucky enough to make it home, but with the borders getting shut down we had to find a new way of transportation to get Mocha up to Alaska with us. This is when we learned about flying horses. Mocha flew up to Alaska on a FedEx plane and loved the whole experience. We then flew up our second horse from TX as well and that is how we plan to get both horses back down to the states next summer when it's time for me to go to college.